Post by minimania on Oct 24, 2009 3:52:05 GMT
I had been aware of Mini Coopers from British racing magazines in the 1960s and saw the first ones race at the inaugural Grand Prix of Canada at Mosport in the summer of 1967. There was a gaggle of Mini Coopers along with a lot of other little cars in the sedan support race and up front were two big Mustangs and two Camaros. I was surprised at the reaction of the crowd on the pace lap because they were all cheering and waving their arms. It was just a support race - what was all the excitement about I wondered? Clearly they knew what was coming and I didn't.
The race started and the four big cars pulled away except for this one little green Mini Cooper of Bill Brack. The crowd of about 60,000 people were abuzz when they came by the first time with the four big cars and the one Mini right behind them, followed by a big gap to the other 50 or so Minis and other little cars like Anglia's and Imps. Each lap a roar would go up as the five leaders went by until one lap there was an enormous roar when it was now two Mustangs, one Camaro, one Mini, and the other Camaro as they passed our position.
After a couple laps another enormous roar went up and they came by Mustang, Mustang, Mini, Camaro, Camaro. The Mini's roof was about at the door handles of the muscle cars as he would lean over on them through the corners, and the crowd was going nuts when they came by Mustang, Mini, Mustang, Camaro, and Camaro. One of the Camaros dropped out and then the biggest roar of all when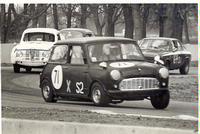 they came by Mini, Mustang, Mustang, Camaro. The roar could be followed all around the course and we could see a gap through the trees over on the back straight where the big cars were way ahead followed by the Mini, but by the time they got back to where we were in the corners the Mini was in the lead. Well one of the Mustangs finally beat him to the flag and he finished second and it kicked off the biggest celebration I ever saw at a race course before or after. The crowd went absolutely nuts waving Canadian flags and literally jumping the fences and running down to the track to celebrate and wave and applaud Bill Brack and his little green Mini.
The rest of the long story and pictures are here:
www.minimania.com/web/DisplayID/2431/SCatagory/Motorsport/DisplayType/News/ArticleV.cfm